There are new rules for travelers arriving in Canada, and Sterling College is here to help you every step of the way.
Below you will find information on everything that you need to do before leaving your country and upon arrival in Canada.
What You Need To Do Before Leaving Your Country:

STEP 2
Take a COVID test 72 hours before you fly.
STEP 5
Complete the international student quarantine plan.
What You Need To Do Once You Arrive In Canada: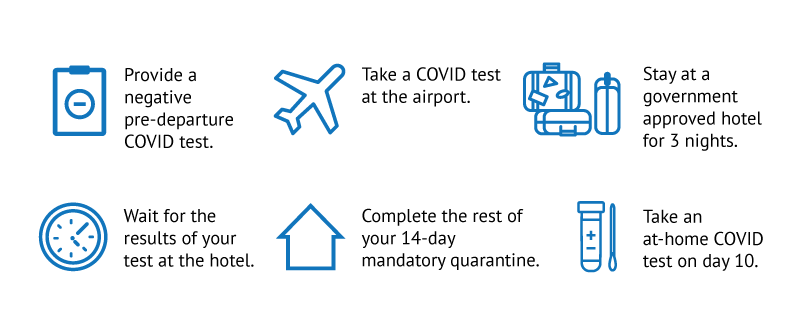 STEP 1
Provide a negative pre-departure COVID test.
STEP 2
Take a COVID test at the airport.
STEP 4
Wait for the results of your test at the hotel.
STEP 5
Complete the rest of your 14-day mandatory quarantine.
STEP 6
Take an at-home COVID test on day 10.
Sterling College can help arrange the rest of your accommodations and transportation. After your 3 nights in a hotel in Canada, you will move to a homestay, residence or apartment for the rest of your quarantine. In Vancouver, you will have 11 extra nights of quarantine.
As an institution owned and operated by the Sterling College, Sterling College students may request accommodation services through Accommodation Department. Please contact us for more information.
We will help you with all the details of your trip to make sure you have a safe and comfortable experience. Please contact your advisor to arrange your personalized arrival and quarantine plan in Canada. Have a good trip, and see you soon!